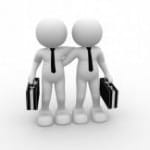 Running a partnership can be rather more complex than being a sole trader. A further tax return is required and there are more complex laws.
We can offer partnerships a complete service that will include your accounts, partnership tax return and individual tax returns that have profit or losses apportioned correctly to each partner for taxation purposes.
This gives you the peace of mind that all legal issues have been complied with.
We are also able to provide all of our other services to partnerships and tailor a package that suits your business needs.
Initial consultations are free so please contact if you would like to discuss any areas further.