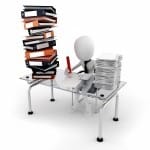 We offer a professional book-keeping service that is tailored to your individual needs.
We provide all types of book-keeping from manual through to computerised accounts. These services include general book-keeping, sales invoicing and credit control. This means no high employment costs and also provides more time to focus on what you do best.
We are able to provide these services either from our offices, which means you sending your information to us on a regular basis or we can visit your premises and carry out the work there.
Our belief in helping clients to maintain financial control through their book-keeping data results in us providing regular complimentary commercial and financial information. This allows you to have real-time information about your business from which you can make key beneficial decisions about your company.
We also provide an annual book-keeping service for smaller businesses that have few transactions, and prefer annual information.
Whichever method of book-keeping you decide is right for you we will always inform you of any areas that we think you will be able to reduce costs and therefore, Increase Your Profits.